21 Dec

Fewster's Farm Honey
Christmas 2022 Newsletter
Fewster's Farm Honey | Christmas 2022 Newsletter
FREE SHIPPING ON ALL DOMESTIC ORDERS OVER $100
Fewster's Farm Honey – December 2022 News

Welcome to the Christmas issue of our Newsletter!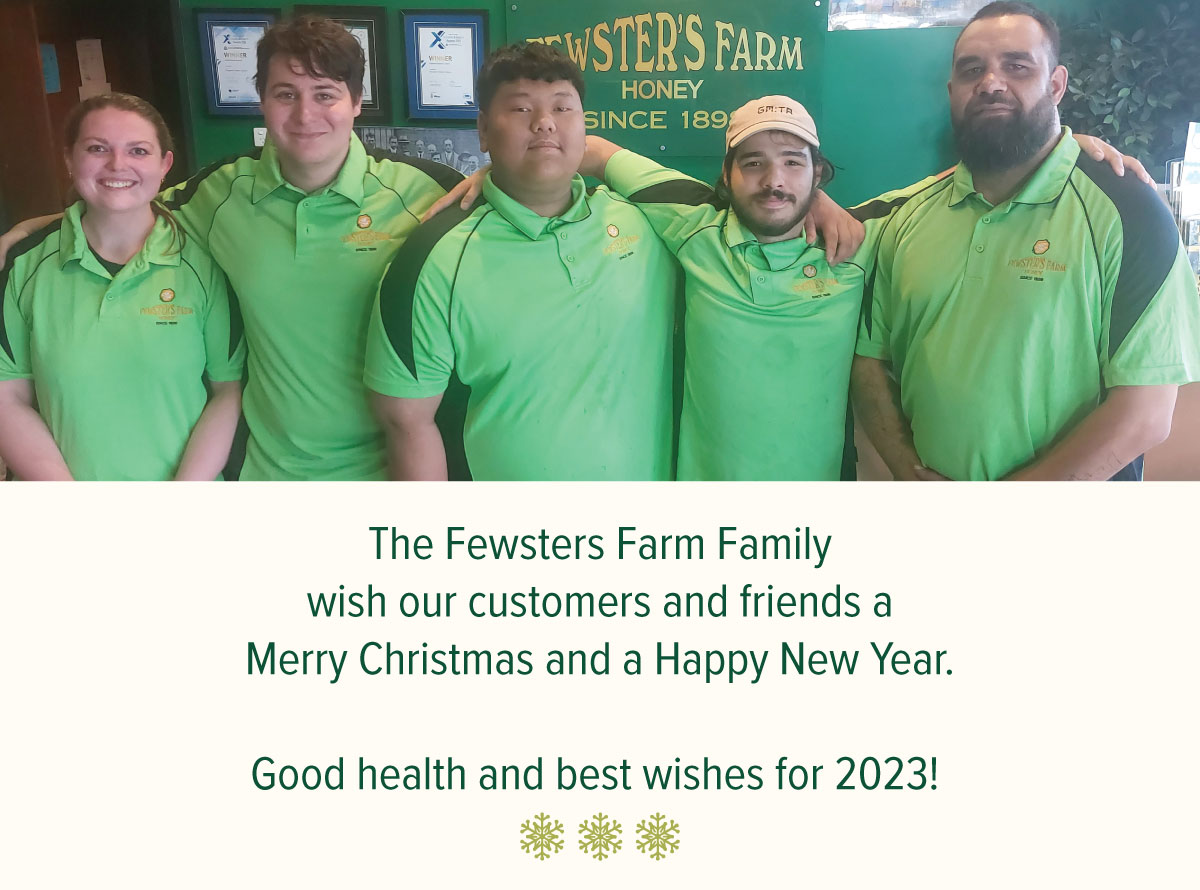 With Christmas just around the corner, have you thought about giving the gift of honey?
***
Presented and packaged in a beautiful Fewster's gift box.
Take advantage of our added bonus – use the code HONEY15 to receive a 15% discount on all orders. Simply email us with your order request.
Newsletter Special Offer
***
15% OFF all orders throughout December. Simply CLICK HERE to email your order request.
INGREDIENTS
2kg leg ham on the bone, scored
1 tbsp wholegrain mustard
45g (1/4 cup, lightly packed) brown sugar
60ml (1/4 cup) Fewsters Farm Honey
2 tbsp water
Extra wholegrain mustard to serve
METHOD
STEP 1
Use a small sharp knife to cut around the shank of the ham about 10cm from end. Carefully run the knife under the rind around the edge of the ham. Carefully run your fingers between the rind and the fat to lift off the rind in 1 piece. Score the fat in a diamond pattern.
STEP 2
Spread ham with mustard and sprinkle with sugar. Place in a slow cooker. Pour in the honey and water. Cook on High for 5 hours, turning once or twice during cooking, or until the ham is tender enough to be shredded.
STEP 3
Transfer ham to a platter and gently shred. Transfer the cooking juices to a small saucepan and simmer over medium heat for 8 minutes or until reduced and sticky.
STEP 4
Drizzle ham with the glaze and serve with extra mustard, if using.
We'd love to hear from you with your favourite honey recipes!
Click here to send us your recipe and we will feature it in our newsletter
Bee in the know…
Sign up to our newsletter
We promise to only send good stuff!