10 Dec

Fewster's Farm Honey
December 2022 Newsletter
Fewster's Farm Honey | December 2022 Newsletter
FREE SHIPPING ON ALL DOMESTIC ORDERS OVER $100
Fewster's Farm Honey – December 2022 News

Welcome to the December issue of our Newsletter!
From the Bee Keeper…
Fewster's Farm Honey and West Australian Honey were very excited to attend this year's Camfood and Hotel Exhibition in Phnom Phen, Cambodia.
Thanks to the WA Department of Jobs Tourism, Industry, and Science, we were able to introduce our wonderful Western Australian Honey to the South East Asia region. We are delighted to say WA Honey generated a lot of interest!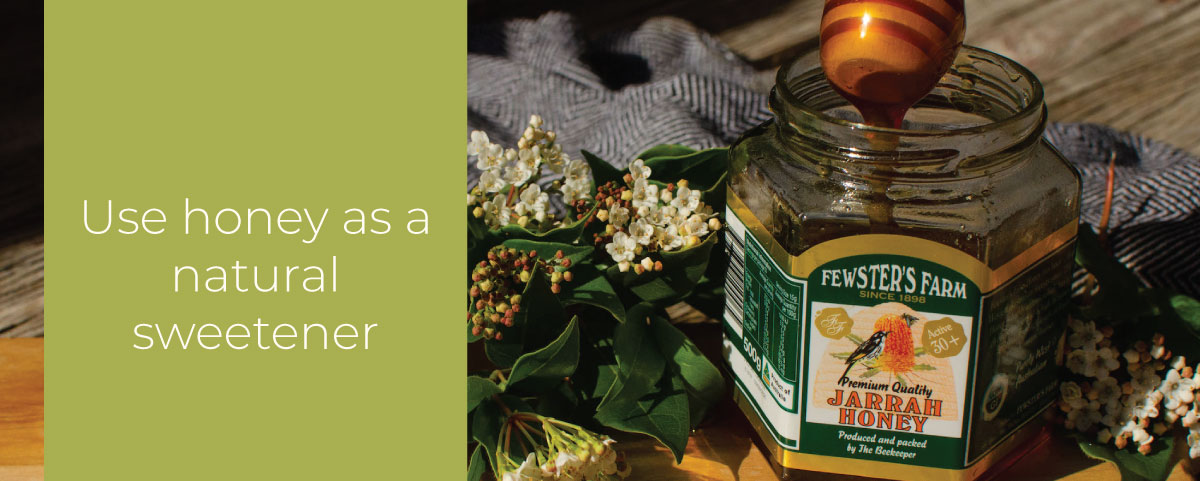 Honey was used as a natural sweetener long before sugar became available and it is an extremely useful ingredient to have in the kitchen. Not only that, substituting honey for processed sugar can offer significant health benefits.
Jarrah honey has a wonderful caramel-like flavour and is a beautiful dark golden colour. Jarrah Honey contains a low percentage of glucose, but is high in fructose. High fructose gives Jarrah honey a lower Glycemic Index (GI) than most other honeys.
Low glycemic foods are known to reduce insulin response in the body which can make it suitable, in moderation, for people with diabetes**
** Consult your doctor first
With Christmas just around the corner, have you thought about giving the gift of honey?
***
Presented and packaged in a beautiful Fewster's gift box.
Take advantage of our added bonus – use the code HONEY15 to receive a 15% discount on all orders. Simply email us with your order request.

INGREDIENTS
750g mixed dried fruit
100g blanched whole almond, chopped
100g chopped peel
200g dried fig, roughly chopped
100g glacé cherry, rinsed and quartered
300g plain flour
1 tsp ground cinnamon
1 tsp grated nutmeg
zest 1 lemon
250g lightly salted butter
250g light muscovado sugar
1 tsp vanilla extract
2 tbsp Fewster's Farm Honey
1 tbsp black treacle
4 large eggs
½ tsp bicarbonate of soda
1 tbsp milk
3 tbsp brandy, plus extra to feed
METHOD
STEP 1
Heat oven to 140C/120C fan. Line the base and sides of a 20cm cake tin first with a double layer of brown paper, then with a double layer of baking parchment. In a large bowl, mix the fruit, almonds, peel, figs and cherries. Turn well and add the flour, spices and lemon zest. In a separate bowl, cream the butter and sugar thoroughly, then add the vanilla extract, honey and treacle. Still beating, incorporate the eggs, then stir in the fruit and flour mixture. Dissolve the
bicarbonate of soda in the milk and stir in thoroughly. Add the brandy by the spoonful, until you have a soft dropping consistency.
STEP 2
Turn the batter into the cake tin and make a dip in the middle using the back of a spoon. Bake for 3½ hrs, then insert a skewer – if it comes out clean, it's ready. If there is any cake mix on the skewer, give it 10 mins more and test again. When it's done, remove the cake from the oven and leave to cool in its tin. The next day, remove from the tin, wrap in fresh greaseproof paper, then put it into an airtight
tin or wrap tightly in foil. The usual thing is to keep the cake for at least a month before icing it, and to unwrap and sprinkle it occasionally with more brandy.
We'd love to hear from you with your favourite honey recipes!
Click here to send us your recipe and we will feature it in our newsletter
Bee in the know…
Sign up to our newsletter
We promise to only send good stuff!